Our calendar on 2016: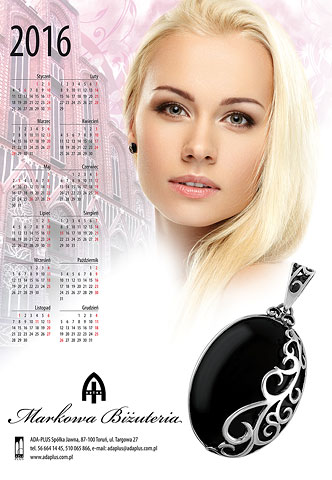 ADA-PLUS company is a producer of brand name silver jewellery, which since 1996 has won the trust of its regular customers in Poland, Czech Republic, Slovakia and Germany. We have in our offer few thousands models of chains, earrings sets, pendants, bracelets, rings and necklaces made of highest quality silver, often with precious and semi-precious stones.

Partners who make a decision to cooperate with our company gain a guarantee of a constant supply of varied and ever-changing range of high quality jewellery that shall satisfy even the most refined tastes.

ADA-PLUS company seeks partners who:
operate in other branches and a silver jewellery shall be treated as a complement of their trade offer,
wish to open a jewellery stand,
are interested in opening own jewellery store.

We are the only company on Polish jewellery market to offer our Partners very attractive cooperation terms and conditions:
we do not charge initial or current fees,
we lease stand equipment elements free of charge - display cabinets with lighting and company logo, advertising materials essential for decorating walls and display windows,
our products come with free packing with the brand logo ,
we offer trainings improving the qualifications of our partners,
we supply advertising materials in the scope of cooperation,
the minimum stock replenishment amount is set individually, depending on the area our Partner designates for the sale of our goods (40 thousand - 70 thousand PLN),
there is a possibility of gaining free bonus in the form of an executive package.
Contact:

Marzena Łyszcz - dyrektor handlowy tel. 509 337 421